MONDAY-FRIDAY 3PM TO 7PM / SATURDAY 2PM TO 7PM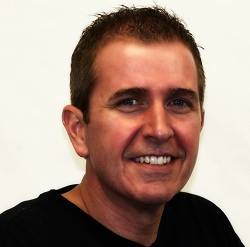 Greg Thomas comes to town after living in Tuscaloosa, Alabama for 15 years. He's originally from Boston, Massachusetts. Does this mean he knows how to paahk the caah at haavaad yaahd? His accent isn't like that.
Montgomery, Alabama makes a great fit for Greg, since he's a history buff (and there is so much history in the capital city and the surrounding River Region), and for the simple fact people around here love college football, like he does!
Greg's love for radio started early, as a little kid spinning tunes pretending to be on the radio. He landed his first on-air radio job at 18 at the Saint Joseph's College campus radio station in Maine. Around that time, he also landed his first paying commercial radio job in Maine producing Boston Bruins Hockey, along with a weekend air shift on a soft rock station.
Greg's career in radio isn't the only long running thing in his life, he has been married to Shannon for over 20 years.
In his spare time, Greg loves getting out to meet listeners, and getting out to community events, especially for special causes (let him know if you have one coming up). He also loves to get outdoors to run, hike a trail, or take a swim. Bottom line, just get outside! Yeah, even when it's stupid hot out. Lots of weekends are also filled with DIY home projects and work on his old X-Terra. Sure, he may hit a few snags and need a few YouTube instructional videos for help. Usually, things come out as a planned. Usually.