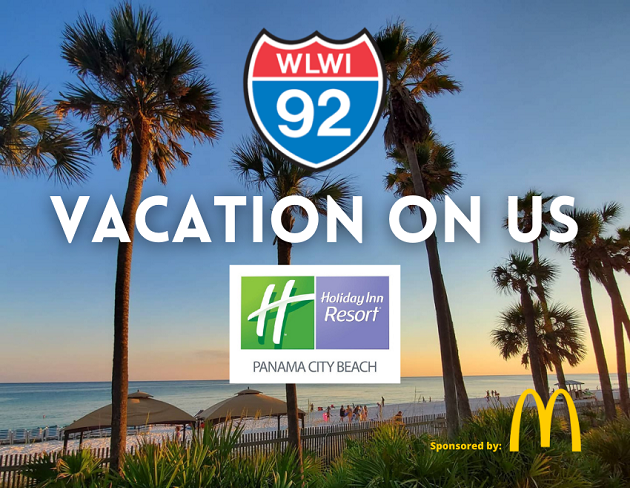 I-92 Vacation On Us! This time, we're giving away trips to the Holiday Inn Resort Panama City Beach with accommodations for 3-days and 2-nights!
Just imagine sitting on your balcony looking out at the Gulf Mexico at sunset. Or, how about unwinding in the hot tub or taking a stroll along the beach. Plus, this full service resort features so many amenities! You will surely be pampered during your stay. Take a look for yourself at hipcbeach.com.
How to win? During the workday, listen to I-92 at 11AM, 1PM, 3PM and 5PM. We'll share a text to enter keyword. Then, text that keyword to the I-92 Contest and Request Line at (334)860-9200.
I-92 Vacation On Us at the Holiday Inn Resort Panama City Beach! Sponsored by McDonald's – operated by Murphy Family Restaurants. For an additional weekly chance to qualify, especially if you are not able to text enter, please complete and submit the form below.
More on the contest: all of the weekly qualifiers go into the weekly grand prize drawing to win the vacation! The contest week is Thursday to Wednesday. There are a total four (4) vacations to be awarded. We start over each week with new qualifiers, no roll overs. No purchase necessary. Data and messaging rates may apply. Please don't text and drive. Must be at least 19 to enter and win, and be a resident of the Montgomery, Alabama metro listening area. Contest ends on November 24, 2021.
Also, our friends at the Holiday Inn Resort Panama City Beach have agreed to offer our listeners special vacation packages, just mention us… I-92 WLWI radio in Montgomery! To book your stay or to learn more, call their reservation desk at 800-633-0266.
Vacation on Us - Holiday Inn Resort
Here's a bonus chance to enter for the weekly drawing to win a vacation at the Holiday Inn Resort Panama City Beach.